Divas before and after Plastic surgery
Bollywood celebrities are known for their physique and their appearance. No doubt some of these actresses are naturally blessed with good features. However, it's an open secret that some of these actresses have had a little extra help – that is plastic surgery.
Many actresses in Bollywood had undergone cosmetic surgery. Some of them were successful while some gone bad. Let's have a look at these before and after plastic surgery pics.
Plastic surgery is a surgical specialty involving the restoration, reconstruction, or alteration of the human body. It is mainly of two types – reconstructive and cosmetic.
Priyanka Chopra
The gorgeous face that PC owns today is not the one she originally had. She has gone through many rigorous plastic surgeries to get the face of today.
In her biography Priyanka Chopra: A Dark Horse, writer Bharathi S Pradhan had revealed that she had gone through nasal surgery just before her shooting for her debut opposite Bobby Deol. But unfortunately, instead of going better, things went wrong. The actress had to face a lot of trouble in the initial days of her career.
Shilpa Shetty
There is no doubt that this diva owns good features naturally. She had undergone a nose job though, to get her present look. This was one of the surgeries in Bollywood that didn't prove to be disastrous.
Kareena Kapoor
The queen of millions of hearts had undergone a jawline and cheek surgery making her look older than herself. Although that brought along a lot of grace to her face and personality.
Aishwarya Bachchan
According to some reports, after winning the Miss World title, the world's most beautiful woman had undergone a nose job to make it look slimmer and pointed.
Kangana Ranaut
The beautiful actress transformed her looks and for that, she opted for plastic surgery. She had undergone breast enlargement surgery and a lip job. She grabbed the industry's attention through her curvy body.
Shruti Haasan
Shruti admitted that she had undergone a nose job. According to her, she made a good decision as it helped her to look even more beautiful. Again this was one of the surgeries in Bollywood that produced the desired results.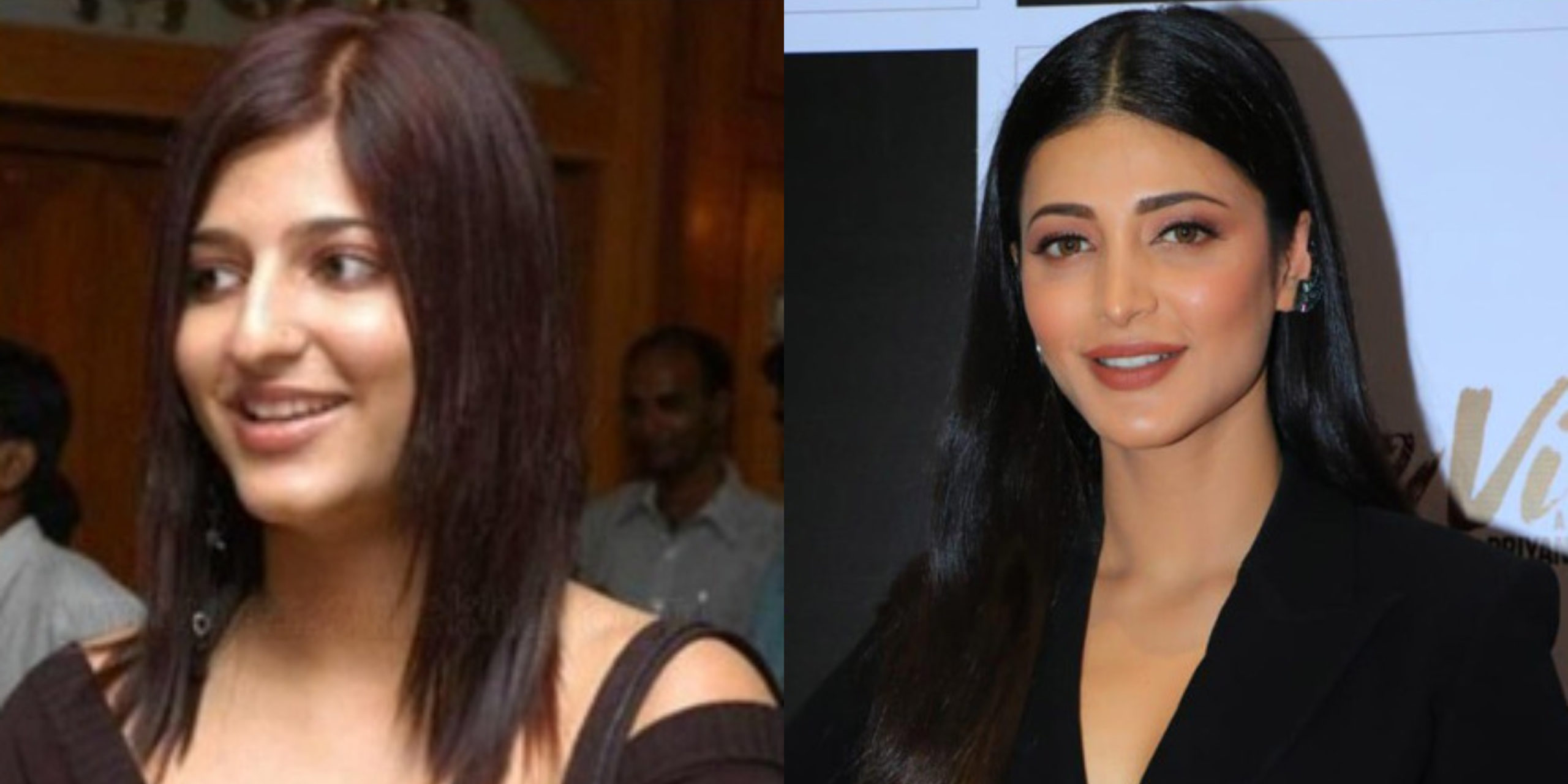 Anushka Sharma
The actress had to face a lot of criticism for tampering with her natural looks. She had undergone a lip job, but unfortunately, it went horribly wrong.
As expected, her fans didn't appreciate the change in her appearance. Anushka addressed the plastic surgery claims and said that she used a temporary lip enhancing tool in collaboration with make-up techniques she has learned over the years.
Ayesha Takia
As Ayesha Takia's pictures with her changed looks started appearing, the fans were quick to disapprove of the same. As you can see in the images below, her plastic surgery went terribly wrong.
Katrina Kaif
Despite blessed with natural beauty the actress has further enhanced some of her features with some cosmetic surgeries. Though the actress has always denied the reports of her surgeries, the visible changes in her appearance confirmed it.
Koena Mitra
Talk of a botched-up job and Koena can tell you a lot about it. Her nose job went so wrong that it not only changed her face but also changed her life forever. She has been vocal about her surgery and has shared how it almost cost her, her life.
She mentioned that after the surgery her bones started swelling up and caused a lot of pain and that her face was so disfigured that it was difficult to smile. Thankfully she got better with medication and the right treatment.
If you liked our article, we'd love to hear from you in the comment section below!
You may also like our next post
How are celebrities slowing down ageing?